Human Equine Interaction Register UK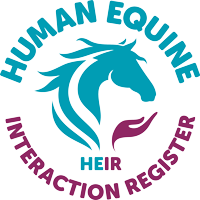 Welcome to the Human Equine Interaction Register UK
The Register aims to bring together all people involved in the field of human equine interactions to ensure high quality service provision and create a greater awareness of their work.
The Register acts as a helpful resource for service users to make informed choices, service commissioners, funders, practitioners and anyone wishing to find out more about equine assisted or facilitated programmes in the UK.
Here you can search for individuals and organisations who provide equine assisted or facilitated therapies including: physical therapies; psychotherapy; education; learning; coaching and have demonstrated that they operate to high quality, safe and ethical practice standards.
Those on the Register have demonstrated that they have both human and equine welfare at the heart of what they do.
Please contact the HEIR UK team at heiruk@hetifederation.org if you require additional information
Legal Disclaimer: Please note that HETI is not liable for any loss, damages or injuries caused during the access or provision of the services below. Training and Certification courses are not accredited by HETI. HETI is not an accrediting body. Service users are advised to research services provided and training institutions prior to accessing these services. The following individuals and organisations have submitted documentation and statements outlining their competence to practice which includes their insurance cover, safeguarding and health and safety policies, commitment to equine welfare, and information about their CPD. Their application to be part of the Register has been verified by the UK National Review Panel.