UK National Register - HEIR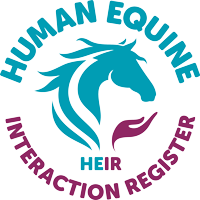 Welcome to the UK National Register
The UK HETI Human Equine Interaction Register aims to bring together all people involved in the field of human equine interactions to ensure high quality service provision and create a greater awareness of their work.
The Register is a voluntary register to bring together everyone involved in the field of human equine interaction, to ensure high quality service provision and create greater awareness of this field of work.  The Register seeks to provide trust and confidence in the sector in order to:-
Protect and promote providers

Protect the participants of the service

Protect equines
The National Register is a helpful resource for service users to make informed choices about service providers. Commissioners, funders, practitioners and anyone wishing to find out more about equine assisted or facilitated programmes in the UK will also find it useful.
It provides the names, contact details and locations of individuals and organisations who provide equine assisted or facilitated therapies including physical therapies; psychotherapy; education; learning; coaching and activities who have demonstrated that they have both human and equine welfare at the heart of what they do.
Individual practitioners and organisations on the Register have submitted documents and evidence to confirm that they align to and meet five criteria:
Professionalism: competence to practice and commitment to professional development
Equine welfare: high equine welfare and management standards
Service provision and service user engagement: communication of services and the potential benefits
Benefits and impact: professional reflection of the benefits and impact of the service being provided
Governance: sufficient management and governance structures in place
Apply to Join the Register
With thanks to support of the Peter O'Sullevan Charitable Trust
Background
For a number of years in the UK, it was recognised that it would be helpful to create a Code of Practice for practitioners working in the field of Humans and Equine Interaction that was inclusive of all disciplines whether for education, therapy or activities as it was a largely unregulated sector. Both human and equine participants needed to be supported. Whilst there was wide recognition that the sector would benefit from some form of standards and collective voice, particularly when considering national policy or funding decisions, there were many different organisations and networks involved. It was agreed that a collective of organisations with experience and expertise in their respective fields would work together to create the register. A Steering Group was established and in 2021 under the HETI umbrella, work to create the UK Register began.
Who will manage the Register?
The voluntary register will be managed by the HEIR Steering Group in partnership with the HETI office and overseen by the HETI Executive Directorate in the first few months as the Register grows with a plan to create a UK Committee to oversee and assure the process as it becomes established in the future.
Who are the Review Panel Members and what authority do they have?
The applications are peer reviewed by members of the Steering Group working in pairs. They follow a checklist based on the applicants checklist to make sure that all the documents and statements have been included. They do not make any value judgments about the applications but check to make sure that all sections have been completed and all requirements satisfied. The pairs complete a declaration of interest form to make sure that there is no unconscious bias and that there is no personal or professional conflict. Where there is any potential conflict which cannot be mitigated, a third reviewer will be involved to reach a majority decision. It is intended that when there are applicants listed on the Register and a new governance structure is established, that the pool of peer reviewers will be widened.
Why do I have to pay to join the Register?
A fee structure has been applied to cover the administrative costs involved with reviewing and verifying documentation, database maintenance, website development and marketing.
The costs are structured according to the size of each organisation.
How much will it cost?
How can I use the National Register to promote my Business?
Upon successful application you will receive a Certificate of Compliance and logo which can be used on your website and all promotional documentation.
Is it mandatory to join the Register?
Joining the Register is voluntary and is not an accreditation. However, consultation with funders indicates that being part of the register will indicate competency to practice and will influence funding decisions
I am a member of HETI. Will I need to pay to join the register?
Existing HETI members who apply to join the Register will not incur any additional costs.
Do I have to join HETI to be part of the Register?
HETI membership is not a requirement but those who join the Register will receive access to the HETI journal, newsletter and publications but are not listed as members on the HETI website and will not have voting rights.
Does the Register include training organisations?
At this time, the register does not include providers of training and qualifications in this area, but it is intended that it will do so in the future.
Was there any consultation undertaken with the sector about the Register before it was launched?
Virtual and face to face consultation was undertaken and the comments received helped to inform the development of the Register. The feedback received can be seen here: HEIR Overview & Feedback
What evidence will I need to join the Register?
An overview of the documents and evidence that applicants will need to submit an application can be found here
What is the application process?
As a not-for-profit Organisation, we aim to arrange as much of this process as possible electronically to keep costs and delays to a minimum.
The review process will take 4 weeks and upon successful completion applicants will then be added to the register.
Applicants will apply online via the 'Apply to Join the Register button on the HETI website. This will include a secure payment portal area.

On receipt of an individual's application and payment, it will be acknowledged by email.

Upon successful completion of payment and once the Review Panel is satisfied that all required evidence has been submitted and it has reviewed the application, the applicant will be listed on the HEIR UK Register.

While the applicant is waiting for their documents to be reviewed they can enjoy all the benefits of HETI membership for example access to over 120 journal articles and international news and networking opportunities.

All applications are received in good faith from applicants.

If you wish to make a paper application, please contact HEIRUK@hetifederation.org. Please note that processing of paper-based applications will take longer and will attract an additional £50 administration fee.
The Decision-Making Process
The overall decision making process is based on the criteria outlined by the HEIR Steering Group being met. This process will take 4 weeks from receipt of all the required evidence. This is to ensure adequate time to review all documentation and to set up new applicants with their registration and publish their details.
Applicants who have not provided all that is required will be advised that until they do so they will not be included on the register. HEIR and HETI can offer assistance, support and guidance to these individuals or organisations.
Should an application for registration or renewal ultimately fail to reach the outlined criteria, the fee will be refunded minus 25% administration fee.
Forged / falsified documentation / misrepresentation
All applications are received in good faith. In the event that there are valid and evidence based submissions of concern about an individual or organisation who has provided information that is false, their Register entry will be suspended pending the investigation of relevant concerns. This procedure will be carried out by two members of the HETI Executive Committee with a final review by the HETI National Forum Committee.
I don't have all the required evidence, what will happen?
Applicants who have not provided all of the evidence that is required, will be advised about what they need to submit and that until they do so they will not be included on the Register. 
Applicants will be invited to provide additional evidence twice more before incurring additional costs.
HETI and the HEIR Steering Group can offer assistance in this case.
How will different qualifications experience be evaluated?
No value judgment will be made about either qualifications or experience. The aim is to support practitioners to operate to high quality, safe, ethical practice standards. Each application will be assessed on its own merit against the criteria.
Will I be able to use a logo or 'kitemark'?
Once applicants have been approved and published on the Register, they will be issued with a logo to use on promotion material, documents and digital resources.
How can I use the National Register to promote my Business?
Upon successful application you will receive a Certificate of Compliance with the criteria which can used on your website and all promotional documentation.
Your details will be listed on the Register with links to your website and social media accounts as applicable
I have made an application but it was rejected, how can I complain or appeal against the decision?
The Complaints and Appeals Policy can be found here
Will I need to re-apply every year?
This is two-year pilot project running from April 2022 – April 2024 and renewal will be required on an annual basis. The evidence required for being listed on the Register will be reviewed and evaluated six-monthly for the duration of the pilot.
Are there different levels within the National Register?
There is no expectation at this stage to introduce different levels within the pilot phase of the National Register.
Is it likely that this process will lead to site visits or is it documentation only?
There is no expectation at this stage to introduce site visits at this time. 
When does the pilot begin and end?
The pilot will run from April 2022 to April 2024. We will learn as we grow and value any feedback you would like to provide which you can send to HEIRUK@hetifederation.org.
I am also listed on a HETI Register in another country, will the criteria be the same?
Each Register is designed in accordance with national legislation and considering the needs of the stakeholders within their country. Each will work to a set of agreed standards set by their National Committee.
If an applicant feels that they are affected by extenuating circumstances based on an equivalency that applies in a particular country, thus making them unable to produce the document required against differing criteria, they can request in writing to the that they are permitted to submit an alternative document equivalent to the one required.
I am also listed on a Register in another country, will I have to pay twice?
Applicants who are already listed on another Register will only have to pay once.
Where is the information about me held and is it safe?
How long will the registration process take?
Once an application has been submitted, a decision will be made within 30 days. Applicants will be kept updated throughout the process if further information is needed before the details can be listed on the Register.
Who are the members of the Steering Group and how were they selected?
The Steering Group is a group of representatives from across the sector who volunteered to help to develop the UK Register at a meeting of HETI members. Once the Register is established, it is intended to create a UK National Committee to oversee governance.
RDA UK
Equine Facilitated Occupational Therapy (EFOT)
HorseBack UK
One Equine
The Association of Chartered Physiotherapists in Equine Activities (ACPEA)
Hartpury University and College.
IFEEL Method and Dare to Live Trust
Sirona Therapeutic Horsemanship
The Mare & Foal Sanctuary representing the SW Practitioners Network
The Steering Group are also members of the National Equine Welfare Council working group to develop a Code of Practice for the sector.
What are the different pathways to providing human equine interactions?
What educational standards and benchmarks are HEIR working to?
HEIR acknowledges the validity of existing quality assurance mechanisms such as established national organisations where industry standard training is recognised, and where training and qualifications are validated by regulated educational awarding and accrediting organisations. We have provided
a guide to explain this