Learning Teaching and Training Activities

Learning, Teaching and Training Workshop- Festina Lente-Ireland
November 17th to 20th 2021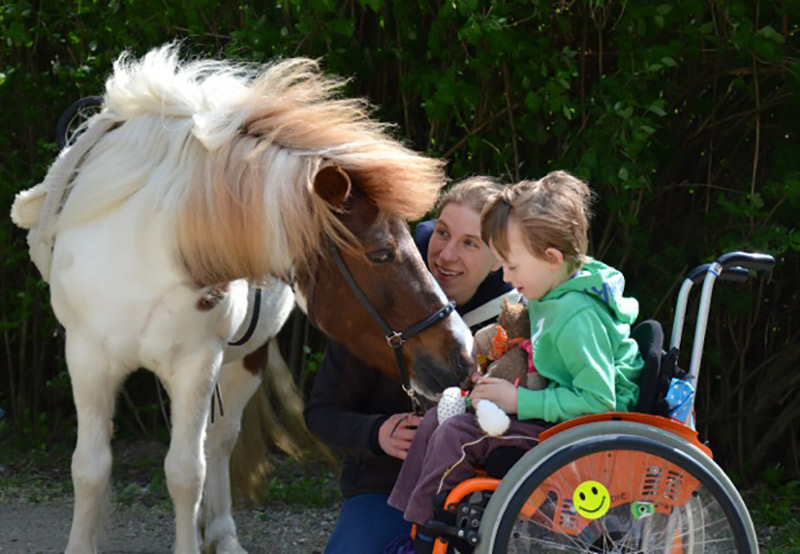 The learning, teaching and training activities carried out at Festina Lente included the following:
Meeting goals:
Overview of key perspectives in equine cognition and learning, equine biomechanics and the need of the Horse in the domesticated environment – Case examples from Festina Lente, HETI and Finnish Assoc. EFT
Examples – Best Practices in Physical Therapy and Rehabilitation key skills and assessment practises when working with the horse and client -i) Case examples from Lapo and Finnish Assoc. EFT
Psycho-educational and social perspectives in rehabilitation and social and emotional wellbeing : i) Case examples from Lapo, Finnish Assoc. EFT, PHA and Festina Lente
Proposed results after the Learning, Teaching and Training Event:
Training and teaching skills will be enhanced in participants
Participants knowledge will be increased and diversified
Participants will develop an understanding of key competences and best practice in EFI education and training
The first Learning Teaching Training Event as part of the Erasmus+ project 'Best Practice in Equine Facilitated Interventions – Education' took place in person at Festina Lente in Bray, Ireland. The overall purpose of this project is to provide an opportunity for European participants to develop an understanding of key competences and best practice in EFI education and Training.  Festina Lente is set into the County Wicklow countryside located on historic land and Walled Victorian Gardens which date back to the 1780's when they were part of Old Connaught House, an eighteenth-century home to the Conyngham-Plunkets. Providing a range of equestrian, horticultural, training, employment services and recreational activities. Festina Lente proved to be a welcoming and diverse venue for the Erasmus project partners to carry out their three-day meeting and training. This first learning, teaching and training event was originally due to take place in April 2020, a time when the whole world was beginning to see and experience the early phases of the Coronavirus pandemic unfold. It was a time of much uncertainty and regular online meetings prior to the originally planned LTT event were filled with many questions and unknowns from the project partners. As time passed it was agreed to cancel the event in April 2020 as most international and national travel stopped as each of the partners' countries went into various
An online event was subsequently arranged for October 2020 and again in April 2021. These online events provided another platform for sharing and networking where several presentations were provided virtually in order to share research, curriculum content and methodologies. Nothing could compare, however, to the ability to meet in person and carry out and experience practical activities. As time progressed throughout the year and governmental advice changed around the world to allow international travel, the date was set for partners to meet in person in Ireland in November 2021.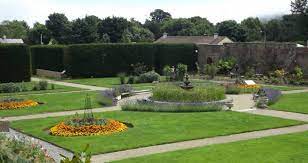 Given the situation we were experiencing in Ireland, regarding the Covid 19 pandemic with a sudden rise in case numbers, safety was the priority when organising the meeting of the project partners. As a result, the organising team which contained partners from HETI, Festina Lente and the Finnish association were in regular dialogue, both with each other, and with the project partners. All those in attendance were required to carry out antigen tests on the first morning of meeting and the last day of meeting. Face masks were always worn except when outdoors or if a person was presenting. All partners knew to adhere to Ireland's social distancing measures as safety and comfort were of paramount importance to all involved in the project. We also ensured we had online capabilities for those who were unable to travel and this allowed project partners from the USA, Italy and the UK to join in online.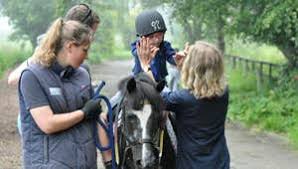 Image:Therapeutic Riding lesson at Festina Lente
Project partners arrived in Ireland on November 17th with plenty of time to explore Bray and the surrounding area. The partners stayed at the Martello Hotel on the Bray seafront and travelled each day the short distance to Festina Lente. The first day of the Learning Teaching and Training programme began with meetings and introductions with all the project partners. Chief Executive of Festina Lente, Dr. Jill Carey welcomed the partners and presented the most up to date research on equine cognition and learning. This was based on findings compiled by the working group who were exploring the important points related to equine welfare, specifically learning and training.
Dr. Carey is also experienced in this area and was able to provide the partners with video examples of particular equitation training principles used at Festina Lente. After Dr. Carey's presentation, each project partner split into their partner groups to discuss how points raised within the presentation could be integrated into partner curriculum, how they could integrate any gaps that have been identified and a list of suggestions moving forward. This activity was carried out after each presentation and then one representative from each working group presented their findings to the larger group. The partners were also able to practice equine training principles later in the afternoon. In the practical demonstration two partners were assigned one horse to work with along with a coach from Festina Lente who could further explain equine learning principles based on the ISES principles. After basic competency was established, the partners were invited to bring their horses outside the arena for a walk through the grounds of Festina Lente. This also offered the partners an opportunity to explore Festina Lente's sensory trail which is utilised by their Therapeutic Riding coaches to increase sensory integration capacity for their clients.
 Next up was Physiotherapist and researcher, Sanna Mattila Rautiainen, from the Finnish Association of Equine Facilitated Therapies. Sanna gave an overview of her current research related to equine biomechanics and equine movement. Utilising visuals, up to date research as well as case examples, Sanna was able to explain to partners the importance of having a good working knowledge of equine movement, equine conformation, correct tack fitting, rider weight and client movement while on the horse. Again, time was given for practical demonstrations of this later in the afternoon. Here Sanna was able to show the partners techniques herself and Anne Rokka utilise while carrying out a physiotherapy session on horseback. Several of the partners also had opportunities to experience this movement on horseback from the client's perspective as well as provided opportunities for those on the ground to observe rider symmetry and equine movement. The day concluded with some more discussions before the partners travelled back to the Martello hotel.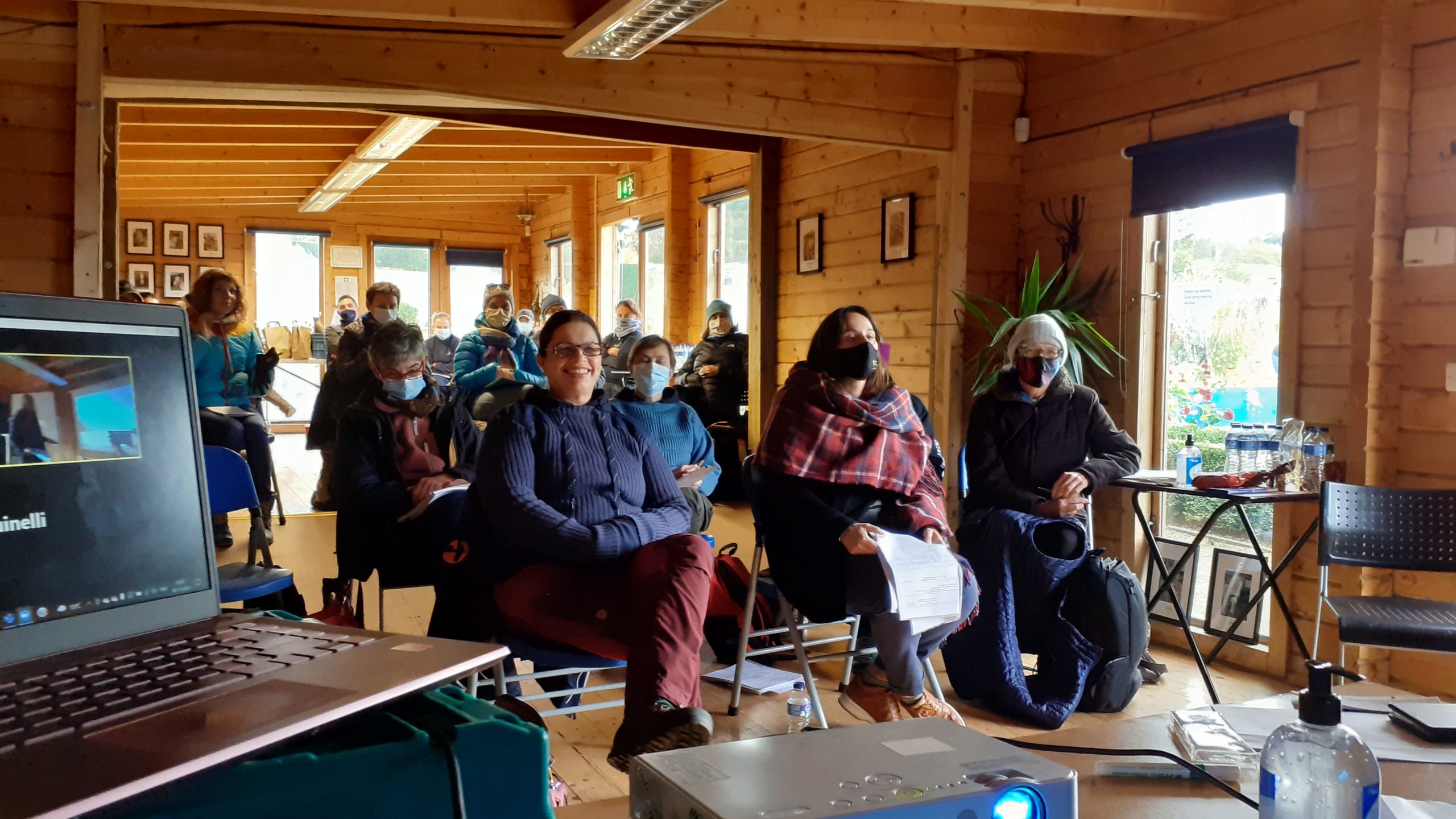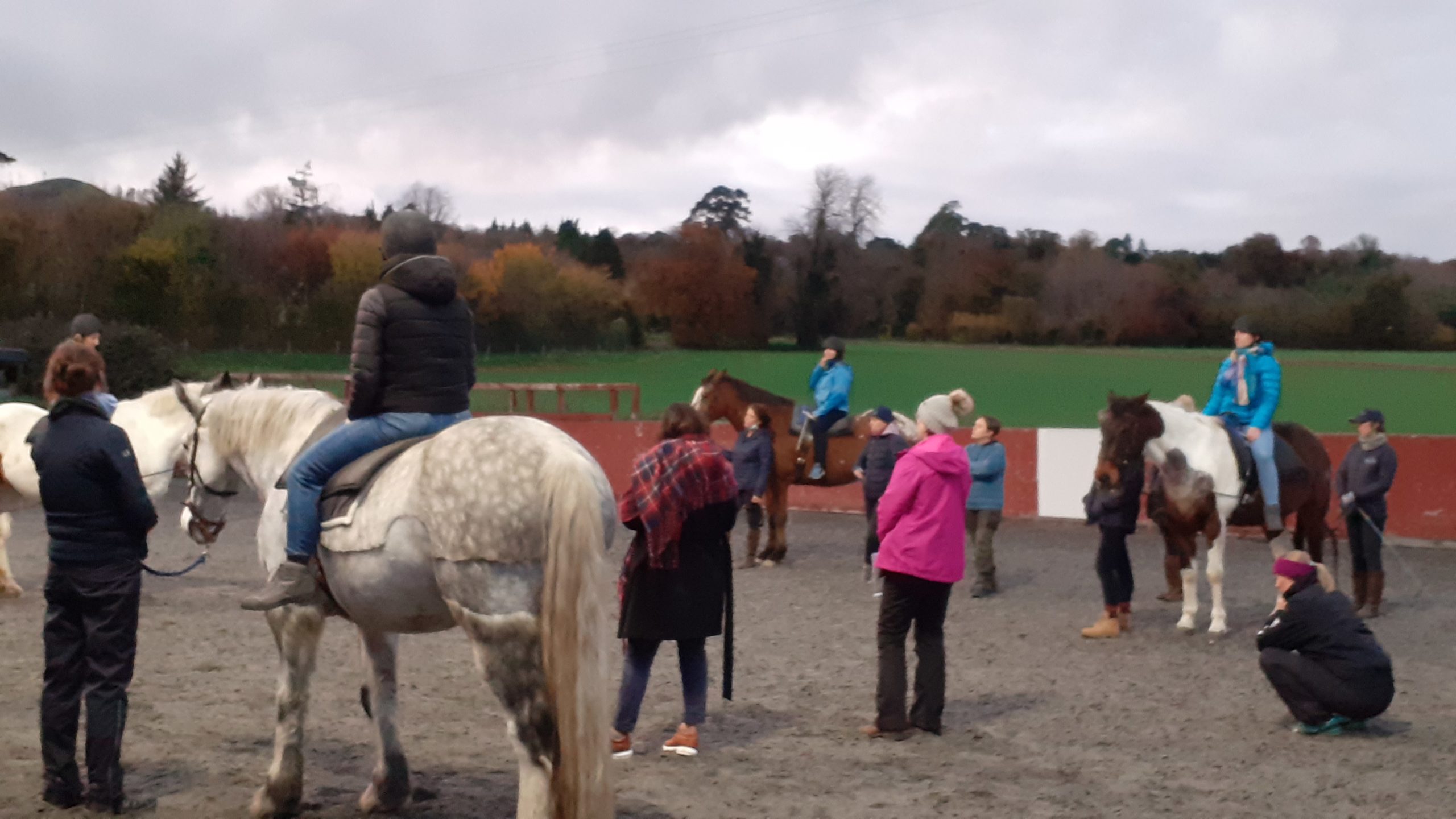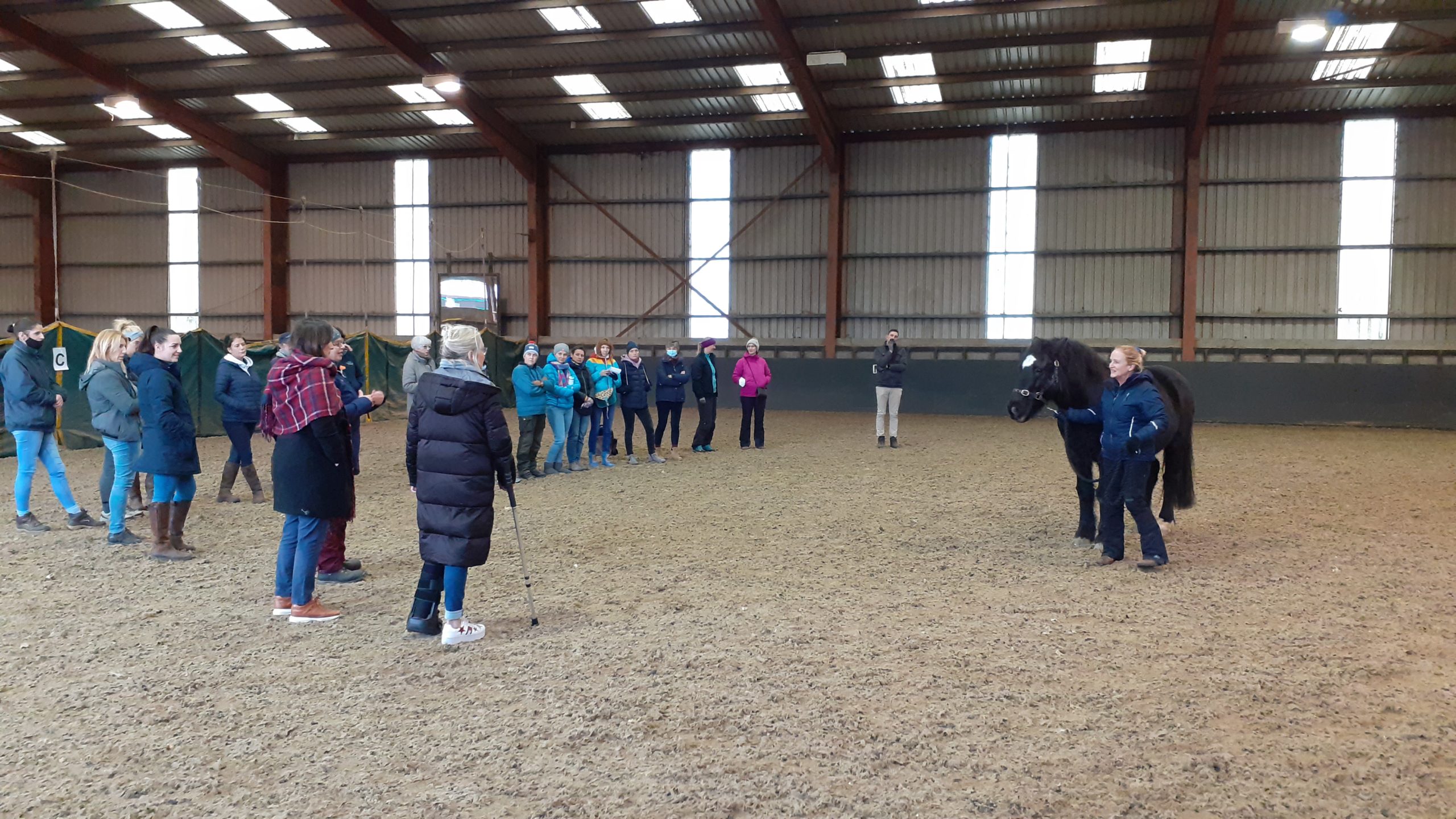 Image 1: Project partners listinging to presentations on the first morning of the project.
Image 2 : Equine Biomechanics practical demonstration by Sanna Mattila Rautiainen, Finland
Image 3: Equine Learning and cognition practical demonstration, Festina Lente staff
Day two began with a presentation given by Professor Anna Passquinelli from LAPO, Italy  who gave an overview of Basic Principles for EFI Treatment in Neuromotor Disorders and assessment criteria, practical implications. These topics are covered in more detail in the recently published handbook – Equine Assisted Intervention – Handbook of therapeutic riding. Copies of these were available for project partners to purchase. Professor Pasquinelli gave an overview of several key topics including a detailed overview of assessment scales which they have developed and they teach within their Masters curriculum. Prof. Passquinelli's presentation was received with much enthusiasm from the group who particularly liked the fact that this was an assessment scale which had been modified so it was specifically applicable to Therapeutic Riding and Hippotherapy. Alexandra Stergiou, Phd and Sanna Mattila Rautiainen were interested in exploring ways in which the reliability and validity of this assessment tool could be researched in order to further develop it so it could potentially be utilised internationally. As a result, they both offered their services to Professor Pasquinelli to continue this research.
 Next to present was Mieke Raupach also from Italy who provided a presentation on Equine Facilitated Therapy Methodology in Dystonic Subjects. Utilising case examples and videos to compliment her presentation Mieke clearly outlined some of the key phases of rehabilitative intervention on horseback, the planning of lessons, choosing the horse, the attitude of the therapist and sidewalker, the technique of back riding as well as some examples of mounting and dismounting methodology. Again, Meike's presentation was met with positive feedback from the project partners after the group discussions, with several finding some key take home points to begin incorporating new elements to their curriculum. Following this Physiotherapist Maija Hautanen from Finland presented her findings on Best Practice in Equine Facilitated Physical Therapy, including case examples and videos. Maija explored areas such as features of spasticity in the client and how the horse affects this, points related to observing, as well as examples of exercises she utilises to improve trunk activation. Maija's video provided several examples of her work with a client to illustrate the points she had raised.
 The next part of the day involved a trip to Festina Lente's retirement field, this is 50 acres of grassland at the foot of the mountains based in Knockree, Co. Wicklow. This is part of Festina Lente's equine welfare program. When the horses and ponies based at Festina Lente can no longer work in their Equestrian Centre for lessons, they live out the rest of their days in their retirement field. Festina Lente has also developed a Horse Retirement Care programme where a group of men and women with intellectual disabilities from the Festina Lente 'Saol Anois' day service care for and ensure the welfare of the retired horses under staff supervision. Once the project partners completed their visit to the retirement field they travelled for their lunch to Johnnie Foxes pub, a 200 year old public house known for being the highest pub in Ireland, with breathtaking views of the surrounding Dublin mountains.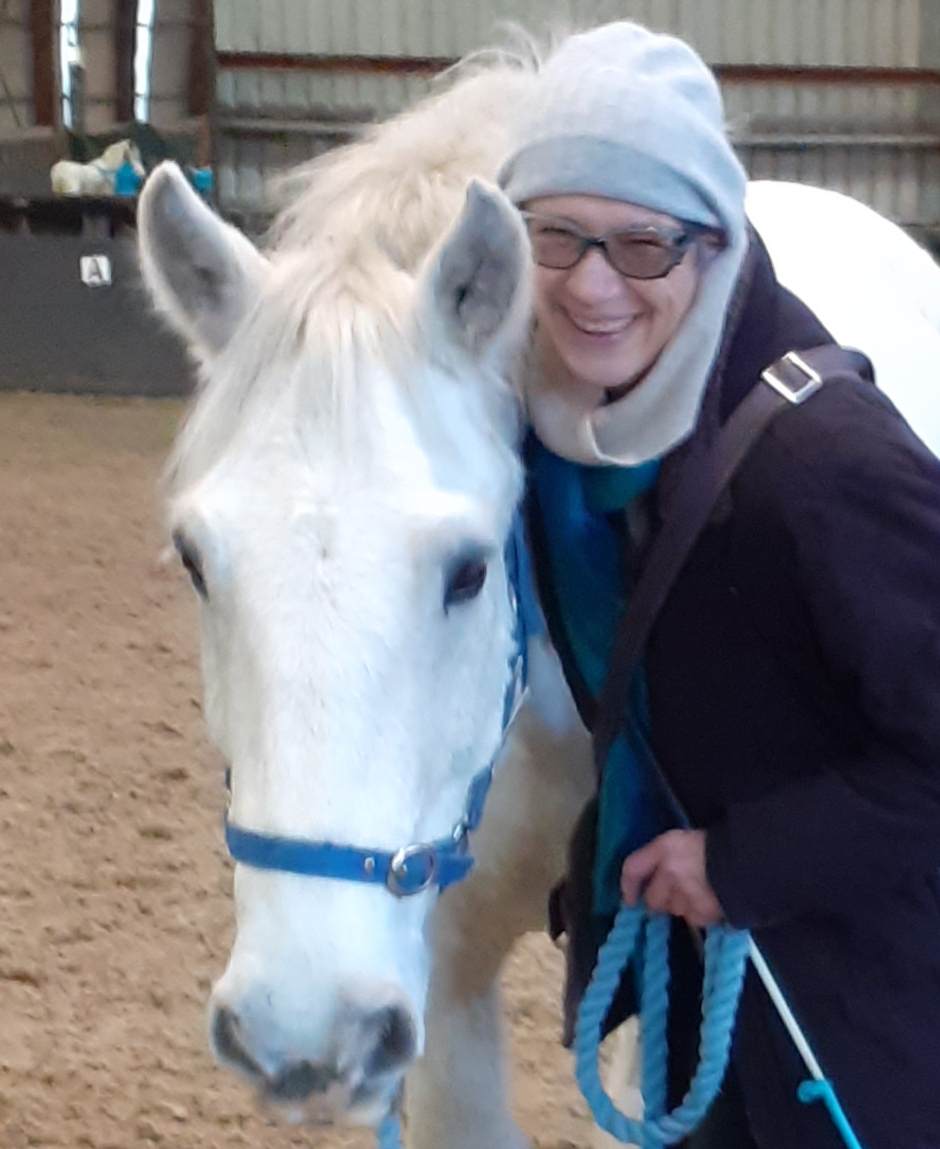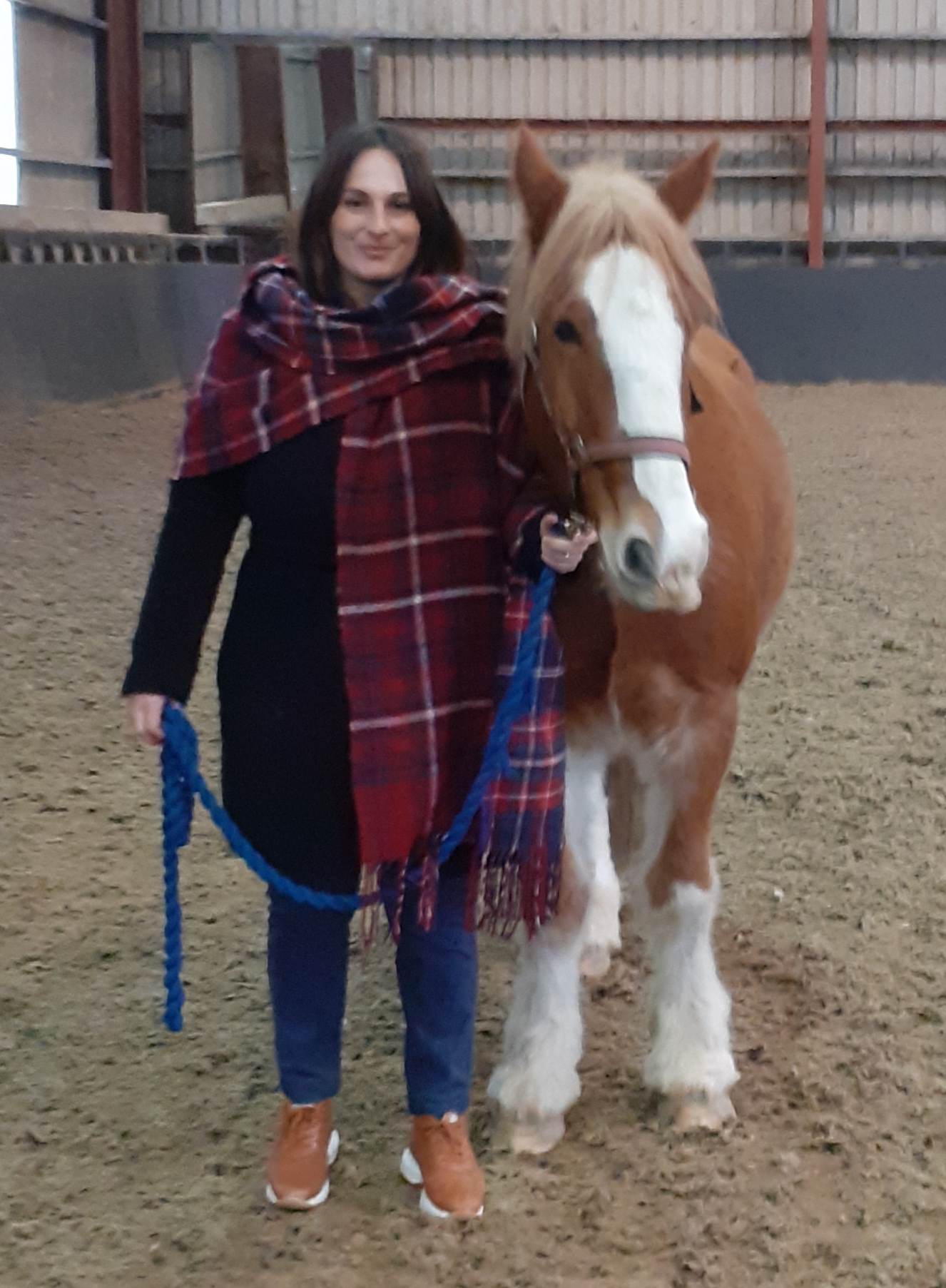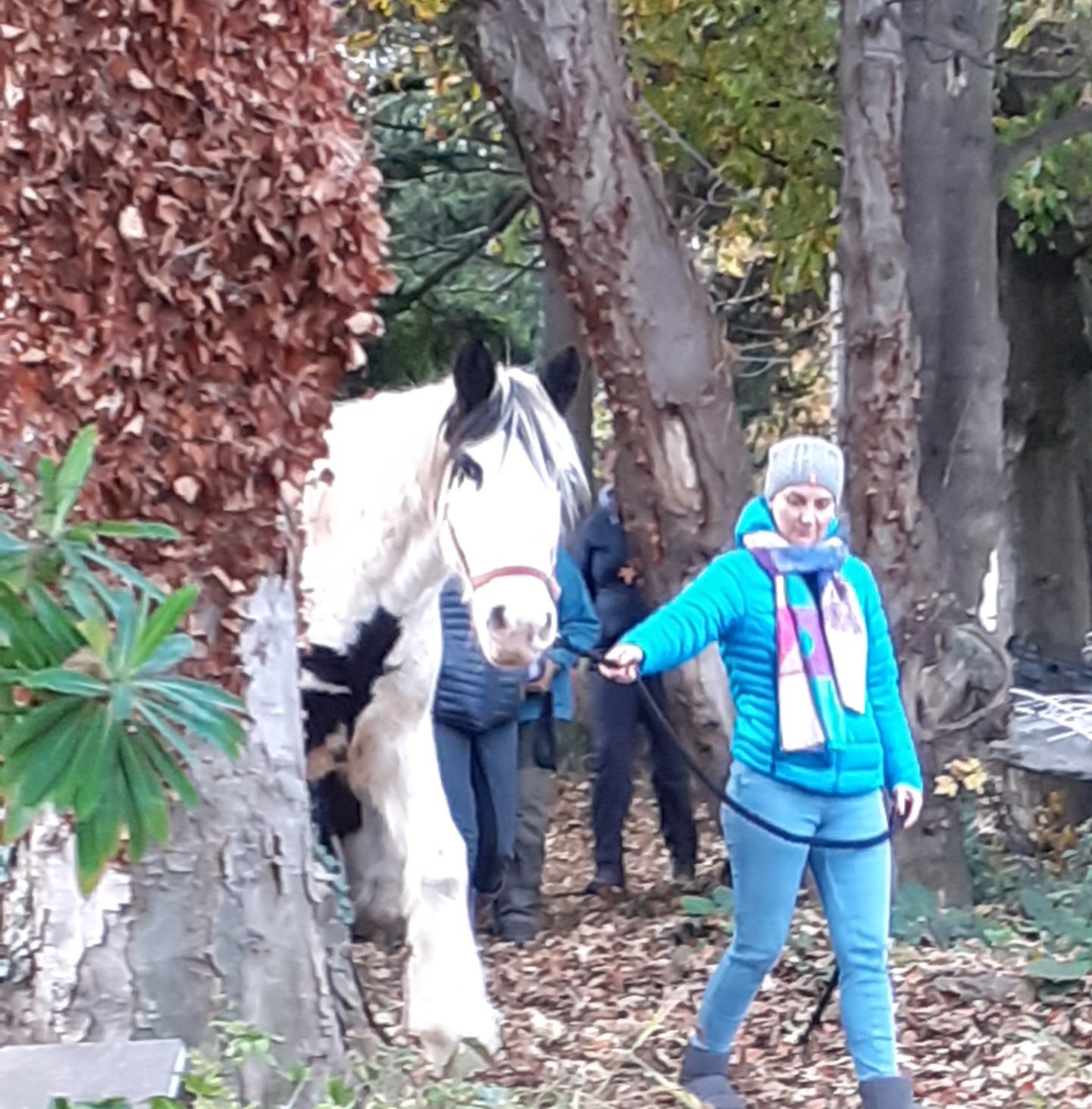 From left to right: Image 1:HETI President Gisela Heimstah Rhodes (USA) and Ronan, Image 2: HETI Vice President Alexandra Stergiou (Greece) Image 3: project partners praticing their leading
When the group returned in the afternoon, Child Neurospychiatrist Dr. Giovanna Mazzotta from Italy gave an overview of Educational Riding to facilitate communication and interpersonal behaviour of children with Autism Spectrum Disorder. This again was enhanced with excellent videos and case examples which allowed the partners to understand the different ways of working with particular populations and methodologies. Dr. Mazzotta provided the partners with a clear commentary throughout the videos to clearly explain her methods and reasoning for employing them. After the partners recapped their day they travelled back to their hotel to continue their discussions over dinner at the Martello Hotel.
 The final day of the project began with a presentation by Former HETI president, Gundula Hauser from Austria. This also included a practical demonstration coupled with presentations given by Magda Pikul from Poland who provided an overview of  "Discovering mechanisms underlying positive psychological functions of EAI followed by Erna Törmälehto Equine facilitated Therapist, OT and Social worker from Finland who explored the "The Emotional Interaction". The conclusion and wrap up of the three days was facilitated by Anne Rokka and Sanna Mattila Rautiainen from Finland. The partners discussed some of the highlights of the three days, as well as reflected on some of the core requirements of the curriculum. Together the project partners concluded with a proposed plan and suggested speakers for the next Learning Teaching and Training Event which is due to take place in Finland in April 2022.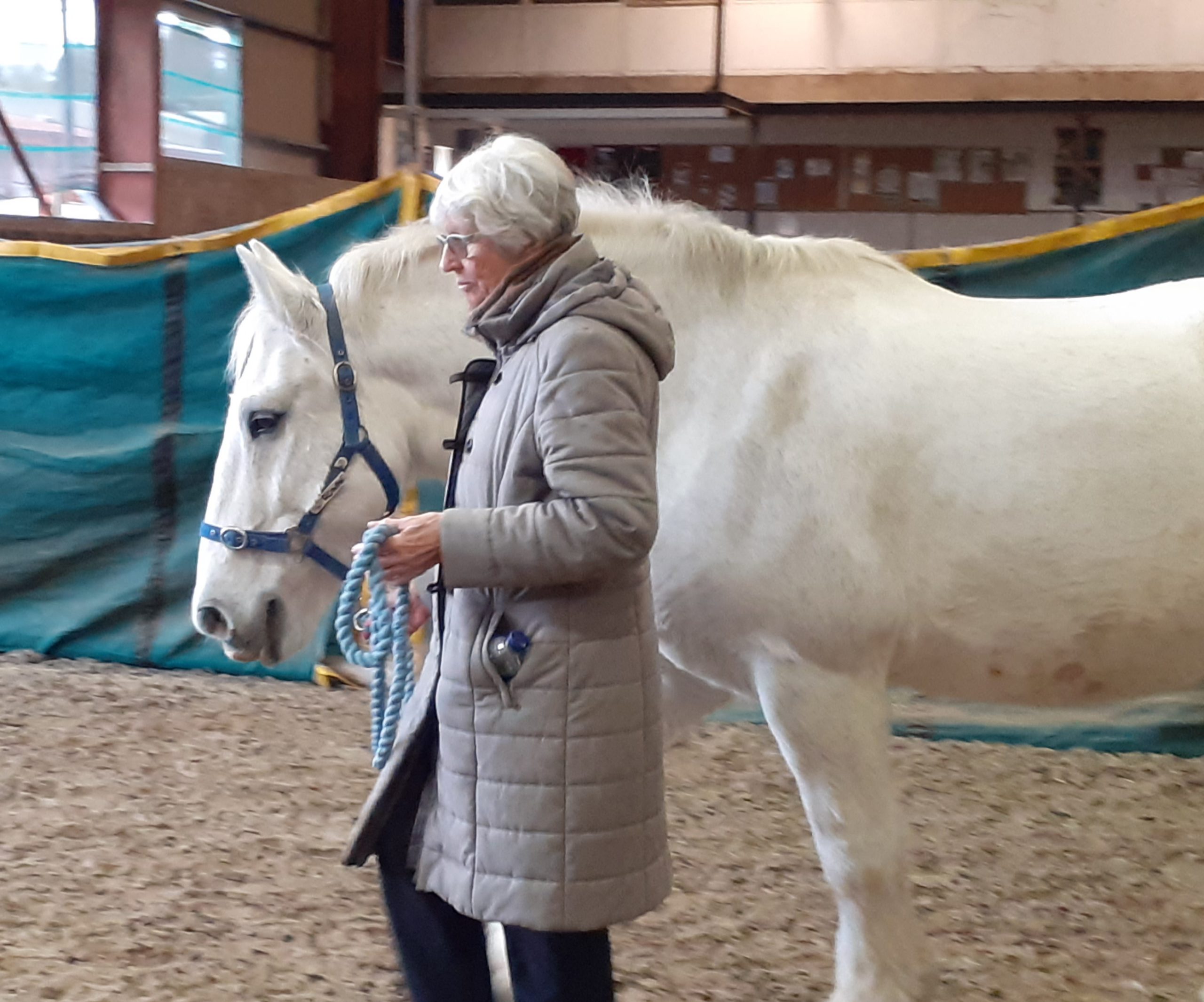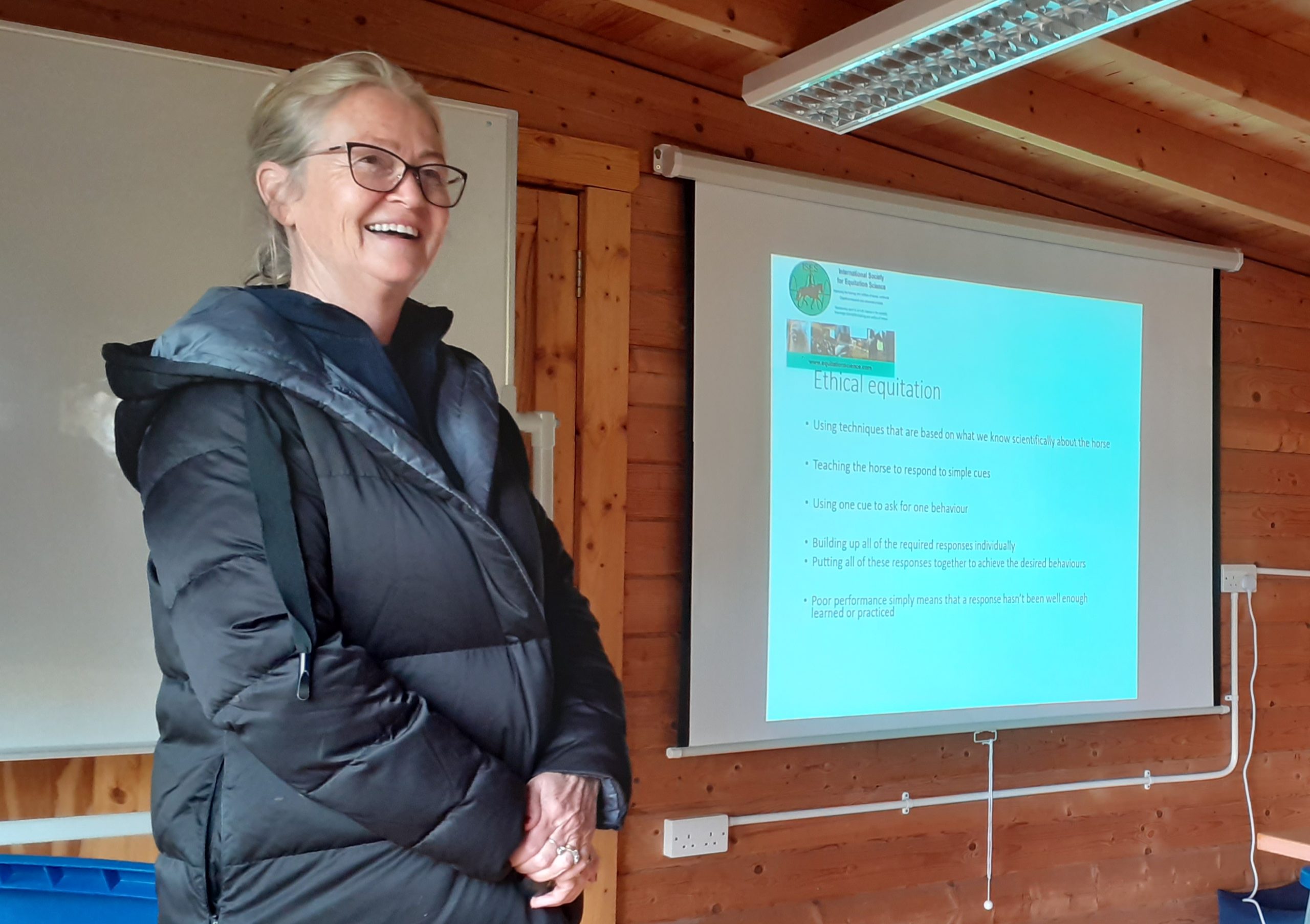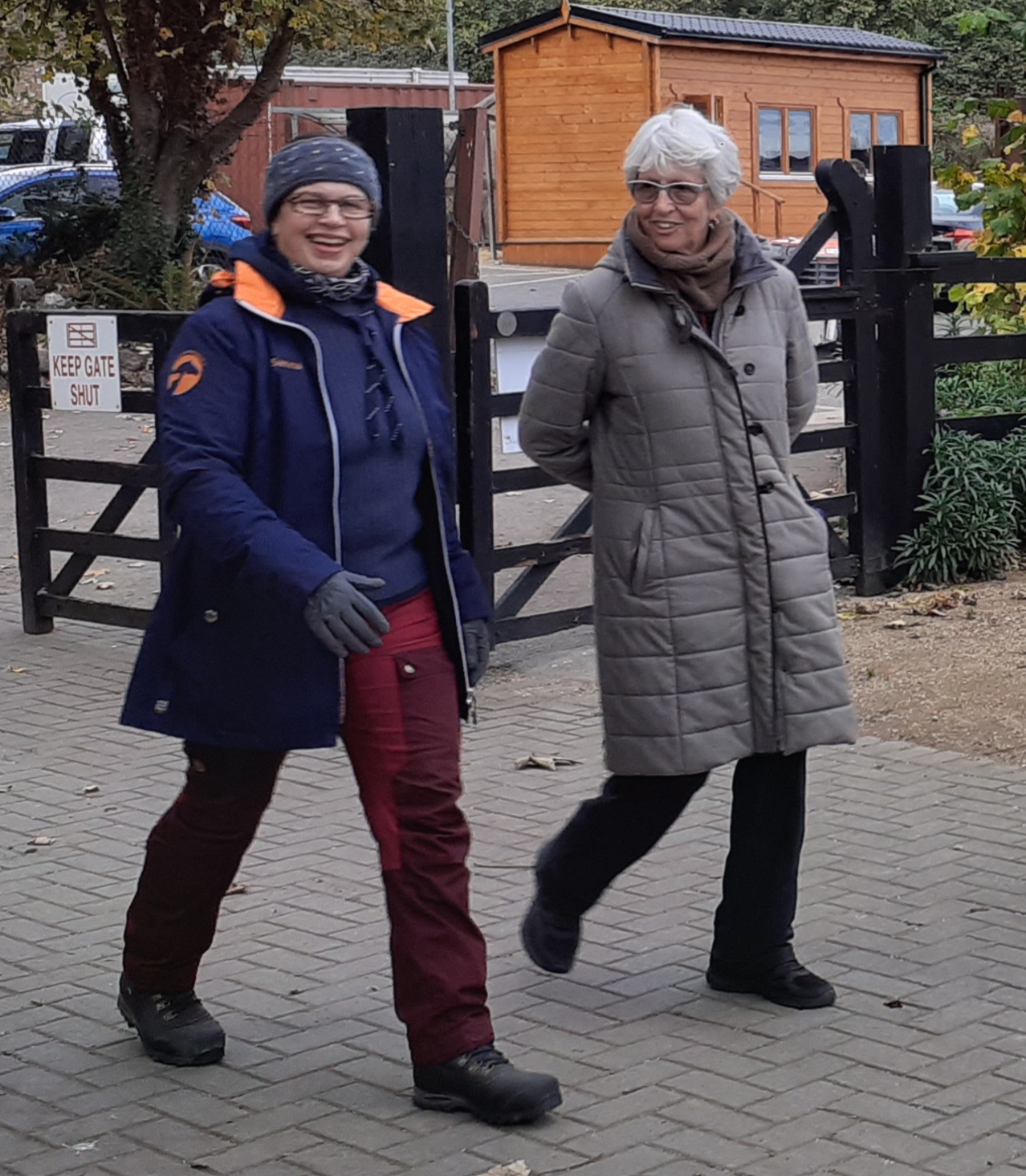 From left to right: Image 1 : Former HETI President Gundula Hauser and Ronan, Image 2: Dr. Jill Carey, Festina Lente, Image 3: Former HETI Presidents Sanna Mattila Rautiainen (Finland) and Gundula Hauser (Austria)